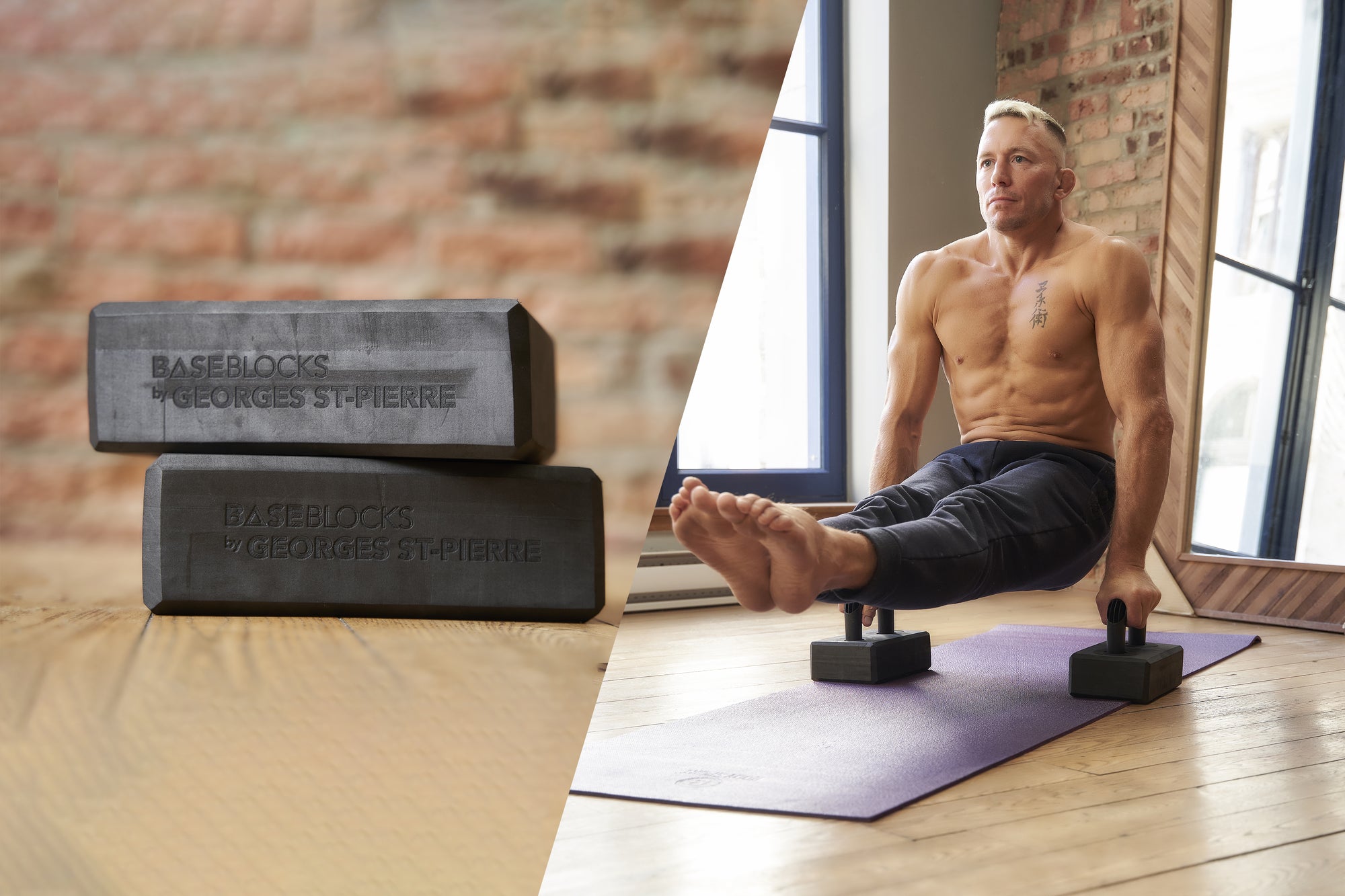 THE STRONGBLOCKS PRO
Introducing the StrongBlocks Pro by Georges St-Pierre. Perform strength and stretch in the same workout. Assembled as parallettes for calisthenics training and stored as stretching blocks to increase your flexibility. Lightweight and compact making it perfect for travel, and fast setup without any buttons, pins or latches.
Assembly time: setup in approx. 5 seconds
Storage: 22 x 16 x 14cm for two pieces (about the size of a shoe box)
Height of parallettes: 4.5cm
Angle of handles: 10 degrees
Max loading capacity: 100kg
Material: EVA foam base and PVC handles
Product weight: 1kg
We offer free shipping to NSW, VIC, ACT, WA and NT. Please note: we do not ship to PO boxes.
For shipments to NZ or TAS, please email hello@baseblocks.fit for a shipping quote.
You can return the item within 100-days of receiving your order for a refund less the cost of return shipping.
It rarely happens, but if there's anything wrong with the functional elements of the equipment, we'll fix it for free. Read about our Warranty and Return Policy here.
"My favorite equipment for travel. I can keep on strength training while on the move."
- Georges St-Pierre, Former 2x Division UFC champion
ANGLED HANDLES
Designed for better body mechanics. Keep a neutral wrist position for floor strength exercises.
"I take these with me every time I travel"
- Georges St-Pierre, Former 2x Division UFC champion
ASSEMBLED AS PARALLETTES
Build upper body strength. Progress from beginner to advanced bodyweight exercises as your strength improves.
STORED AS STRETCHING BLOCKS
Stack the blocks in different arrangements to increase or decrease the difficulty of your stretch.
TRAVEL FRIENDLY
Only 2.2lbs. and smaller than a shoebox
QUICK SETUP
No pins, buttons, or latches.